Firstest, we wants to say a biggy-big kitty thank yous to alls you who was so vurry vurry nice and taught us we didna has to wurry about our glow eyes. We likes how they be kitty laser eyes. We has secret powers and didna even knows it! You guys are super.
Today, we has what we call, "Who loves the sack?"
First, Pungy loves the sack
Second, Domino loves the sack.
And third, Sneaky Pie loves the sack.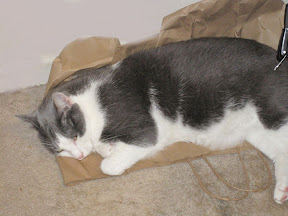 Sacks bees vurry popular at our house. We hope everyone enjoyed our sack too. And we hope everybody has a happy day :-)
(⌒▽⌒) Oh, it's a wonderful day in the neighborhood ...