Hi Everybody! HEY!!! look up there at the tops of our pager site!!!!! You sees it???? We gots us a new banner title. We been wanting Mumsy to make one that has all us on it, instead of dis Domino getting all the looks.
And happy Friday! We sure did enjoy International Box Day. We wanna thank everyone over at
Zoolatry
for doin this thing up, on account that we really think it a very worthwhile venture. (That's business talk we heard on MSNBC. They use it when they wants others to know what they's sayin is im-pour-tin-ant.) The wonderful people at
Zoolatry
also made the pretty picture of Miss Duchess that is in our new title! They's so neat. Boxes Day and neat pictures - they dis busy with all kinda neat stuffs.
Also today, we really want Miss Momo to know, we wuz her a sweet grandmother kitty. Our Miss Duchess is a great-grandmother, so them bees pretty special to us. If you don't know Miss Momo, she so sweet and so pretty. Go see her, and here is a shortcut... to Grandmother's house!
ALSO, today, we be doin some of that Friday Flashin Back stuff.
This was Piewhackits and SneakyPie about 2 years ago!
This is Oliver about 3 years ago. Dis look at the edge of dat carpets too! None of us kitties around here know how that happened.... Honest.
Dis bees Pungy. It's a cute picture, but dinky on account Mumsy tooked it with her cell phone camera. Thankfully, she's come a long way since then! She has a real camera now :-)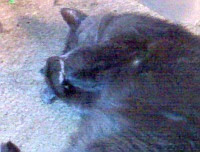 Oh! How she gets in here???!!??!! Dis bees Gir, the really, seriously, strange kitty what lives with us. She's "different" but we don't hold it against her, and we wuz her too! <3
Okay, we alls done for dis time. We want alls everyone has a good weekend! We bees seeing you alls later!
=^~^=